Artists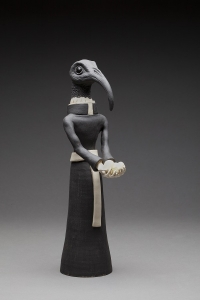 Born in 1980, Whanganui artist Angela Tier holds a Bachelor of Fine Arts with distinction.
Angela's sculptural works are hand built using the coiling technique, in which coils of clay are gradually stacked and joined one on top of the other. "I like working in the coils as it's a very old technique."
In recent years Angela has created a series of bird urns, representing some of the New Zealand's extinct and endangered birds. "It only takes a few centuries of human activity to have such an impact on the environment that we might lose them forever."
A recent series of black crows was produced in response to the anxiety caused by unpredictable world leaders, increasing our susceptibility to seeing omens in events. In 2014 a crow attacked peace doves released by the Pope - perhaps a sign of terrible events yet to unfold.
Angela has exhibited in numerous group shows as well as award-based exhibitions.