Artists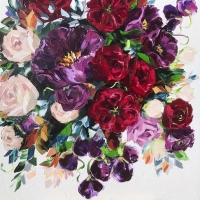 Auckland artist Diana Peel initially worked in interior design. It was not until some 12 years later that Peel discovered the joys of painting.   
"I hadn't painted since university, but this time I couldn't stop. I had this desire to create and explore something hands on. I felt like I had to get it out of my system. My paintings are an emotional manifesto; a tool of self-expression and a reflection of my world".   
Peel is now a full time artist and art tutor, specialising in contemporary flower paintings. Peel first exhibited in Palmerston North in May 2019, as part of the "Blossom" exhibition at ZIMMERMAN.