Artists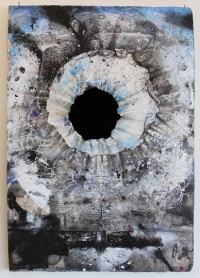 Born in 1972, James Robinson holds a Bachelor of Fine Arts (Otago) and a Diploma from Hungry Creek School of Art and Craft.
A finalist in the prestigious Wallace Art Awards in 2000, 2002 and 2003-2004, James was the Paramount Winner of the awards in 2007. Since that time, he has held numerous shows throughout New Zealand, as well as having exhibited in Berlin, London, Sydney, Melborne and New York. James has also completed many noted national and international artist residencies, including the McCahon Art residency in Auckland (2007), Sarjeant Gallery residency in Wanganui (2008), and William Hodges Fellowship at Southland Museum and Art Gallery (2013).
James' works range from massive, highly textural abstract paintings to intricately drawn graffiti-like forms. The drawings offer a glimpse into the tensions and conflicts of the artist's mind – snatches of taunts, symbolic doodlings and alien-like forms all providing cryptic clues as to the how the artist responds to the troubles and stresses of the world.