Artists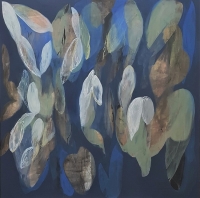 Vicky Lord's background as a designer is evident in the graphic qualities of her paintings.
A graduate of Massey University School of Design (BDes, First Class Honours), the Auckland-born and raised artist now lives in New Plymouth with her husband and two young children.  
Lord's artistic practice reflects on current events and social concerns. "There will be many who use their positions in politics, commerce, activism or other channels to bring about change. I've chosen to use my paintings to talk about important issues, and to share some of what is going unsaid."

Lord's first solo exhibition at ZIMMERMAN, in June 2020, began as a response to coral degradation and destruction, and translated into a deeper reflection on the impact of humankind, while expressing hope for a new direction.