Home

/

December 2016 / January 2017 - Kirsty Gardiner - @new normal
Previous Exhibitions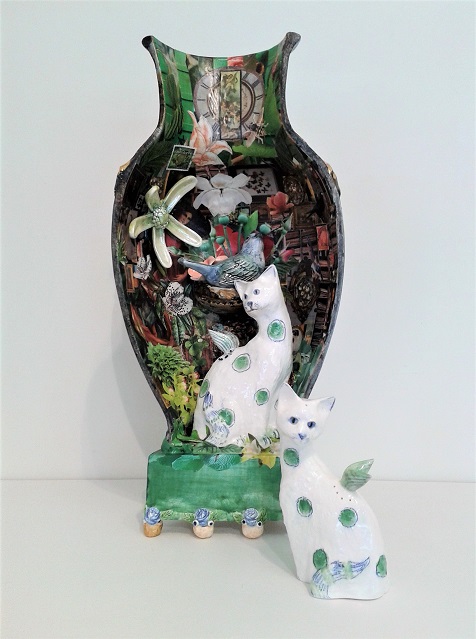 From December 2016 to January 2017, ZIMMERMAN is featuring @newnormal - ceramic works by Kirsty Gardiner.  
Kirsty Gardiner: Artist's Statement
@newnormal is inspired by my fascination with the "@" symbol and a desire to create a new history. 
The "@" symbol originated during medieval times, used by monks who copied manuscripts by hand. 
The preposition "at" in Latin became "@" to make writing faster. This medieval relic is at the heart of our online lives. 
It is a reminder of the past, the present, and the continual desire to create ever expanding markets for tangible and intangible products, labelled "new". 
Imagine looking into your mind's eye and finding nothing. Waiting for something to return, still nothing … then creating a new normal. A new imagined history, evoking a dialogue between the imagined creatures and the space they inhabit. 
Brief artist's bio
Gardiner's ceramic sculptures are influenced by her childhood, natural history, and the collections with which Gardiner came into contact while working as a gallery technician at Aratoi Museum of Art and History in Masterton.

Gardiner's works have been selected multiple times for The Portage Ceramic Awards, New Zealand's most prestigious ceramics prize. In 2016 Gardiner's work received an Honourable Mention at the Portage Awards, and in 2010 Gardiner's work secured the Premier Award.

Gardiner's work has also twice been selected for the James Wallace Art Awards, and in 2013 Gardiner was the winner of the Friends of Aratoi Award.

A regular exhibitor since 1997, Gardiner's exhibition Portmanteau: A Cabinet of Curiosities, was shown in 2012 at Aratoi, and in 2013 at Te Manawa Museum of Art, Science and History.
Installations of Gardiner's ceramic huia skins have featured in a number of public exhibitions, including at Aratoi (Masterton), Expressions (Upper Hutt), Shapeshifter (a biennial sculpture exhibition curated by The Dowse in Lower Hutt), Te Manawa (Palmerston North) and as one of the finalists in the 2016 Molly Morpeth Canaday Awards 3D (Whakatane).