Home

/

May 2016 - Fran Dibble -a selection of sculptures and paintings
Previous Exhibitions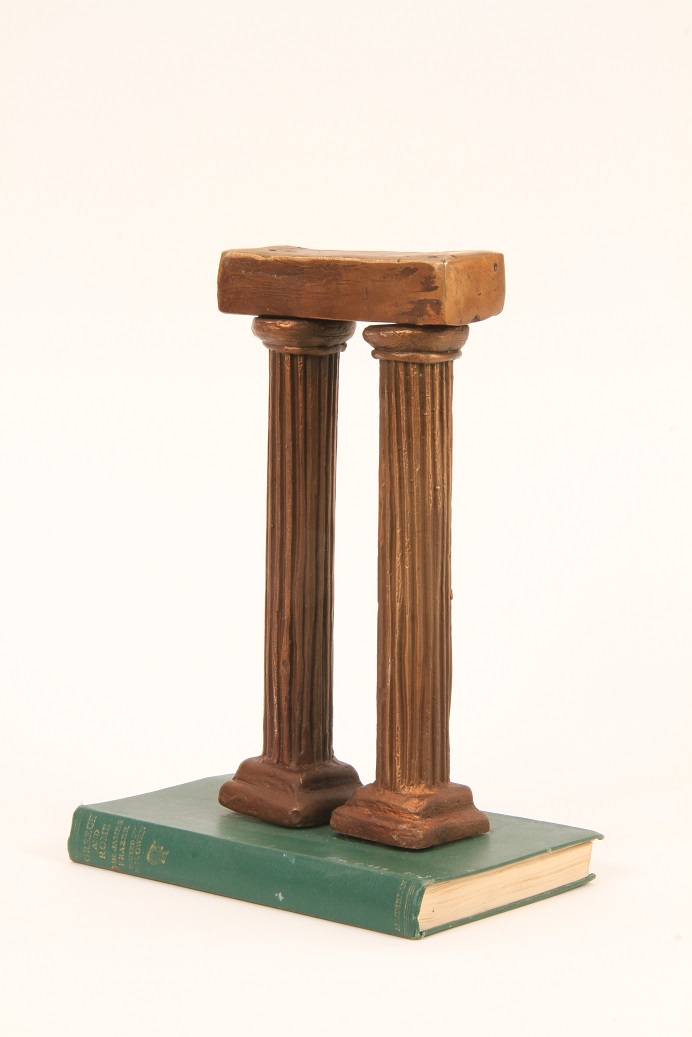 Fran Dibble – artist's statement
"Three strands of art practice are represented at Zimmerman in the month of May 2016.
The book works sprang from not just a love of reading but from a love of the objects themselves – the bindings and typeface, linen covers, the pictures, even the thickness of the paper and their own particular smell – none of which is present in the poor substitute of electronic versions. Using vintage books with small bronze modelling added onto their tops I began to create these small tributes. This way of working had the added interest of being driven in direction by the 'find'.
Later I began to make my own bronze books, some copies of real ones (eg; "A Short History of the English People Vol IV"), the inspired book deemed too beautiful to relinquish, or else I entirely make them up. This enables more complex narrative to be presented.
In Vanitas the odd collection of books shows how death has been an ongoing preoccupation, with books as different as catalogues on historic and contemporary artwork sharing the pile with one of the most famous of self-help books "On Death and Dying" by Elizabeth Kubler-Ross. Picasso Flowers uses a rough copy of one of Picasso's vase and flower sculptures from the 1950s haphazardly placed on the artist's biography. They are casually positioned the way things are stacked and muddled in domestic environments.
The paintings in this show are overspill from the Te Manawa exhibition "A Beautiful Destruction" - part of the same series, some are early examples in the development of the show. They depict moody skies over seas positioned against more abstract panels, enjoying the spectacle of nature in all its fury and splendour.
The last strand are watercolours that represent a more intimate leisurely artistic study, the works often painted in the evenings away from the artist's studio – coffee table as working bench, the living room floor as viewing space.  Subjects chosen in these watercolour works are often an excuse to lay down brushstrokes and play with colour. Here they are examples that are not landscapes but pieces of gardens; cropped squares in what we imagine might be a never ending jungle, for these aren't formal arrays but gardens grown in a more disorderly fashion. Likewise the paintwork is not overly particular about accuracy, but intentionally free and exploratory."
Fran Dibble - brief artist's bio
Fran Dibble holds a BSc in Biochemistry and Botany, a MSc (Hons) in Biochemistry and a BA in Philosophy.
In 2007 Dibble was awarded the Queen's Service Medal for services to art, and in 2011 was awarded a fellowship at Palmerston North's UCOL (Universal College of Education).
Fran Dibble lives and works in Palmerston North with her husband, bronze sculptor Dr Paul Dibble.