Home

/

October 2016 - Paige Williams - surreal animal paintings
Previous Exhibitions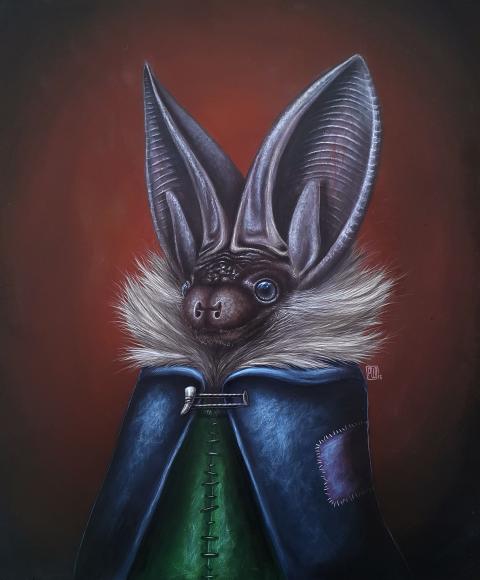 For the month of October 2016, ZIMMERMAN is exhibiting a series of paintings by 19 year old Auckland artist, Paige Williams.
A surreal animal painter, Paige is fascinated by "the weird and interesting." 
Introduced to art as a child by her grandfather, it wasn't until Paige William's later high school years that her enjoyment of painting deepened. 
Having commenced studies toward a career in gaming, earlier this year Paige withdrew from University to pursue a professional career in painting and illustration. 
Working from a home studio in Auckland, Paige paints "all sorts of animals in strange or unusual situations." 
The artist exhibited several works in this year's Royal Easter Show in Auckland, and was subsequently profiled in the Youth Page of The New Zealand Artist Magazine (May/June 2016). 
This month's show at ZIMMERMAN is Paige's first solo exhibition. 
The show sports a cast of quirky characters; from the charming young "Bat", standing stiffly upright for his portrait, to the matronly "Hen", primly wrapped in a high-necked tartan shawl. 
Also featured are several paintings in which predator meets prey. The largest of these is the unsettling "Truce", in which wolf and rabbit meet amongst the charred remains of a still smouldering forest. 

More playful works portray fish, floating in bubbles, unexpectedly coming eye to eye with beady-eyed birds; a delightful dream or a paralysing nightmare, depending whose perspective you choose ...