Artists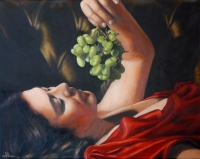 Born in 1968, Andrew Moon is a self-taught artist based on the Kapiti Coast.

Painting mainly in oil and acrylic, Andrew is inspired by the realist styles and techniques of a range of Old Masters. He enjoys working with an emphasis on the harsh lighting contrasts of chiaroscuro (exaggerated contrasts of light and dark). Finding inspiration in the works of 17th Century masters such as Caravaggio, Velazquez and Rembrandt, Andrew's intensely illuminated figures are picked out from their shadowy backgrounds by bold, directional sources of light.

The influence of Caravaggio, in particular, is visible in a number of Andrew's works. In similar fashion to the Old Master, Andrew takes as his models the people close or familiar to him, transforming family members and friends into models for compositions ranging from Biblical to contemporary.
While Andrew enjoys exploring a range of subjects and settings for his paintings, he often returns to portraits and people, drawn back by the challenge and intensity of the human form.