Artists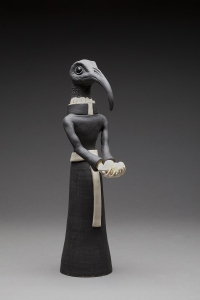 Born in 1980, Whanganui artist Angela Tier holds a Bachelor of Fine Arts with distinction.

Angela's sculptural works are hand built using the coiling technique, in which coils of clay are gradually stacked and joined one on top of the other. "I like working in the coils as it's a very old technique."

In recent years Angela has created a series of bird urns, representing some of the New Zealand's extinct and endangered birds. "It only takes a few centuries of human activity to have such an impact on the environment that we might lose them forever."

In 2019 Angela turned her attention to our endangered native bats, pekapeka, and sculpted 100 small bat urns. Measuring between 10 and 16 cm high, each bat is unique. Some are styled after existing bat species, while others are imaginery, representing species not yet discovered.

In 2021, Angela released a series of "Genie Birds" - a reflection on the environmental impact of introduced birds. Yet while "the genie is out of the bottle" and exotic species have forever changed New Zealand, Angela's sculptures impart a sense of the artist's appreciation for the natural beauty and character of these relative newcomers to our shores.

Another recent series is the "Liberator Dog" works, inspired in part by Egyptian Shabti (mummy-like figurines) and Guatemalan worry dolls. If you write your anxieties down on paper, and post the paper into the opening at the back of the Liberator Dog, then the "black dog" will take your unwanted thoughts - a transference of the worries from your innner mind away from yourself.

Angela has exhibited in numerous group shows as well as award-based exhibitions. ZIMMERMAN has represented Angela since 2018.