Artists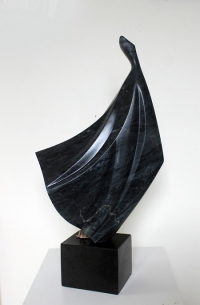 Anna Korver holds a Bachelor of Fine Arts in sculpture from the University of Canterbury (2003).

Korver is a regular participant in sculpture symposia and sculpture park exhibitions both locally and abroad.

In 2018, Korver was part of international sculpture symposia in New Zealand, Korea, Romania, Albania and Macedonia. In earlier years Korver has participated in sculpture symposia in Qatar, Montenegro, Cyprus, Australia, Denmark, Turkey, Iran and Costa Rica. The artist was awarded first prize for her work at sculpture symposia in Rotorua (2014), Whangarei (2012) and Coromandel (2008).

Public sculpture by Korver has been installed both in New Zealand and abroad, including in Romania, Albania, Egypt, Montenegro, Australia, Turkey, Iran and Costa Rica.

Korver's work has been exhibited on multiple occasions at New Zealand Sculpture Onshore (Devonport), Sculpture on the Peninsula (Banks Peninsula) and Art in a Garden (Canterbury). Korver has twice exhibited as part of Shapeshifter at the Dowse (Lower Hutt), and has twice been a finalist in the prestigious Wallace Art Awards (2016 and 2018).

Korver is a former a co-owner of The Korver Molloy Gallery and Sculpture Park, which operated in Taranaki for four years.