Artists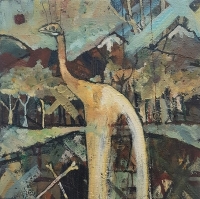 Born in Christchurch in 1968, Brett a'Court is a full time artist.
Brett became interested in art at a very young age, finding meaning through painting early in life.
His relationship with art quickly developed into a lifelong passion to seek truth and understanding, and to make a spiritual connection through his faith between the physical and metaphysical realms.
Delving into New Zealand history to explore events of the past, his work explores questions of identity and his place in Aotearoa.
Brett's current work examines colonisation and Maori history, in particular the Maori prophets of the past. His use of woollen blankets as a medium are a connection and metaphor between colonisation, Christianity and the Maori prophets.
Brett won the Hugo Charitable Trust runner-up award in the 2021 National Contemporary Art awards, and was a finalist in the awards again in 2022 and 2023.
In 2023, Brett was also a finalist in the Molly Morpeth Canaday Award and the NZ Paint and Printmaking Awards, and in 2022 was a finalist in the Craig Aspiring Art Award. 
Brett's work is found in both private and public art collections throughout New Zealand. The artist lives and works in Waipu, a small Northland town he moved to with his wife more than 25 years ago.