Artists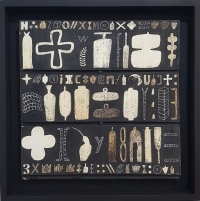 Born in Melbourne in 1972, Cam Munroe is a graduate of the Meadowbank School of Art and Design in Sydney. Munroe has lived in New Zealad since 1994. 
The artist has a solid exhibition history, extending over more than two decades. Munroe has been represented by ZIMMERMAN since her first solo exhibition at the gallery in 2010. 
Munroe's art practice initially focused on painting, with wood, canvas, cardboard and aluminium all employed as bases on which the artist marked out her unique pictorial language. 
Characteristically comprising a collection of curious objects and cryptic symbols, the artist's paintings frequently assume a grid-like arrangement, in which strange and mysterious forms are captured, collated and contained. Since 2017, the forms have begun to transcend the faintly marked and disintegrating gridlines that lie beneath.
In recent years, the artist has extended her media of choice to include ceramics. This new media has provided Munroe with a means of translating her pictorial language into three-dimensional form.
In 2015, a ceramic composition by Munroe was selected as a finalist in the Parkin Drawing Prize, New Zealand's most prestigious drawing award. In 2016, Munroe took out the Premier Award at Ceramicus in Wellington, confirming the artist's successful adoption of this new media.