Artists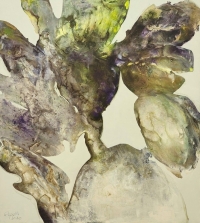 Born in 1954, Wellington based artist Elspeth Shannon holds a Bachelor of Fine Arts (Hons) from Massey University.

Elspeth has been represented by ZIMMERMAN since 2011. Over this time, the focus of the artist's works has ranged from paintings featuring humans and animals, to an exploration of more abstract forms.

Elspeth's most recent works have focussed on the process of painting, with the image being secondary to the making. Paintings are begun as a chance process, with loose bold applications of paint and inks. Gradually, through building and painting over with more deliberate mark making, an underlying order begins to emerge, and the paintings start to suggest forms of animals, plants or minerals.