Artists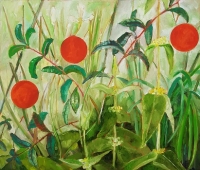 Born in Connecticut (USA) in 1962, Fran immigrated to New Zealand with her family as a teenager.

Fran holds a B.Sc. in Biochemistry and Botany, a M.Sc. (Hons) in Biochemistry and a BA in Philosophy. Her interest in these disciplines informs her artistic practice, encompassing both painting and bronze casting.

Since 2002, Fran's paintings have come together as multiple panel assemblages, variously painted on paper, aluminium and board. The artist draws inspiration from the natural environment, as well as shapes observed under a microscope, and scientific theories such as principles of gravity and the diffusion of particles.

Fran's interest in bronze casting developed as part of her work with her husband, acclaimed bronze sculptor Paul Dibble. A recent series of bronze works (some under the moniker "Dibble Studio") pay tribute to Fran's fascination with books, "collections of knowledge that we fear might be lost, never satisfactorily replaced with electronic files read on screens". Some of the book works incorporate real vintage books, while others are fashioned entirely in bronze.

In 2007, Fran was awarded a Queen's Service Medal for services to art, and in 2012 was made an Honorary Fellow of the Universal College of Learning, Palmerston North.
In 2019, Fran was received into Te Aho Tāmaka leaders programme, an initiative that celebrates accomplished leaders making a difference in New Zealand and globally, who are proud of their connections to Manawatū.