Artists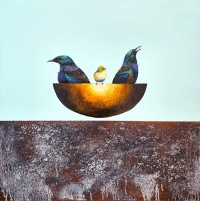 Born in 1967 in Brighton, England, Ian Chapman trained in Visual Art at the Polytechnic in Masterton.

The artist has been involved with King Street Artworks in Masterton since its inception in 1997, first as a tutor and now as Manager.

Chapman has exhibited across New Zealand, from the Artist Room in Dunedin, to the Pah Homestead in Auckland, where Chapman was a finalist in the prestigious Wallace Art Awards (1994).
In 2019, Chapman's solo exhibition "A Song for the Uncoordinated" was exhibited at Aratoi Museum of Art and History, and later that year the artist went on to receive the premier award at the Wairarapa Art Review.

Chapman describes himself as "desperately normal on the outside and a little irregular on the inside." With influences including 50's sci fi, steampunk, retro toys and the cartoons of Gary Larson, the artist's surreal works feature "a mix of unlikely things in an unlikely landscape."

In Chapman's art works "the title is everything. It may come during the painting or months afterwards. But it will come, and only then will I consider the painting finished."