Artists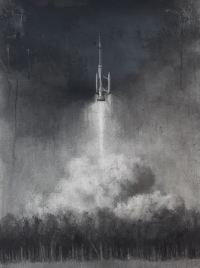 Naga Tsutsumi, born in Japan in 1967, has lived in Palmerston North for more than a decade. Working from a small studio beside his home, Naga's meticulously rendered figurative works meld influences from his Japanese ancestry with imagery from Western culture and history.

From a Samurai family, the artist is the last descendant of the main branch of the Tsutsumi family. "But I don't have any inheritance or family treasures like swords, amour or written manuals about swordsmanship; my only legacy from the glory era is a family tree book, made about a hundred years ago, and my name."

Naga has had over 30 exhibitions in New Zealand, USA and Japan. He was selected Overall Winner for the Manawatu Arts Review in 2011, and was a finalist in the New Zealand Portrait Gallery's Adam Award in 2012, and the Parkin Drawing Award in 2013.
In 2018, Naga received a major grant from the Earle Creativity and Development Trust, for the creation and refining of a totara charcoal suitable for use as an artist's drawing material.  
Naga holds a Master of Fine Arts from the University of Iowa, USA.