Artists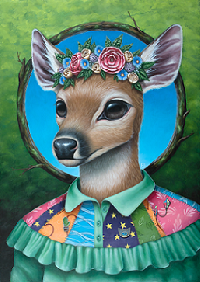 Born in 1997, Paige Williams is a surreal animal painter fascinated by "the weird and interesting."
After commencing studies toward a career in gaming, in 2016 Paige withdrew from University to pursue a professional career in painting and illustration.
Working from a home studio in Auckland, Paige paints "all sorts of animals in strange or unusual situations."
Paige exhibited works at the 2016 Royal Easter Show in Auckland, and was subsequently profiled in the Youth Page of The New Zealand Artist Magazine (May/June 2016).
Paige's first solo exhibition was held at ZIMMERMAN in October 2016, followed by further successful solo exhibitions in August 2017 and August 2019.