Artists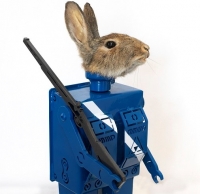 Sean Crawford graduated with a Bachelor of Design in 2003, and has been a full-time sculptor ever since. 
Growing up in Wellington, and holidaying in the Wairarapa, Crawford spent his summer holidays helping out on local farms with livestock and pest control. Now living and working in rural Carterton, his sculptural work continues to be influenced and inspired by the Wairarapa bush and the contradictions of New Zealand's colonial past. 
Crawford uses a variety of materials, ranging from laser-cut steel to taxidermy. 
In 2019 and 2020 sculptures by Crawford made the finals of the prestigious Wallace Art Awards, the longest surviving annual art awards of their kind in New Zealand. 
Crawford identifies one of his career highlights to date as being a 2015 commissioned sculpture 'Waiting for Hammond': a two metre tall huia bird set on a headland overlooking the Irish Sea. It's a sign that his ideas, although largely home-grown, are just as relevant on the world stage.