Home

/

TEN: 10 year anniversary of Zimmerman Art Gallery
Previous Exhibitions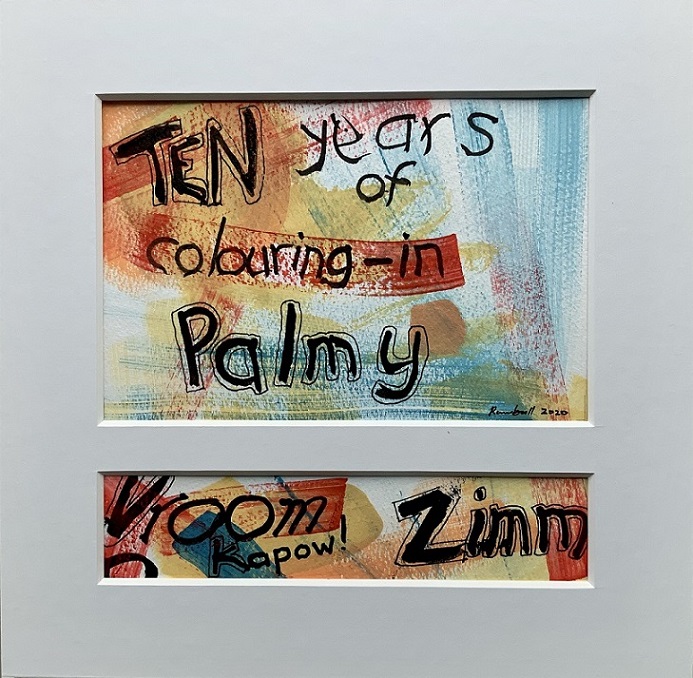 For the months April and May 2020, ZIMMERMAN is showcasing TEN: an exhibition marking the 10 year anniversary of ZIMMERMAN in Palmerston North.
April marks the 10th anniversary of ZIMMERMAN … and what a journey it's been.

In a world where nothing is certain, and in a time where every day brings change, it's with great relief and thankfulness that I look back on a decade of being part of the visual arts in Palmerston North.

There have been times of hard slog, stress and much sadness, but there have also been times of great joy, excitement and celebration.

And I've experienced all manner of changes and challenges over the past decade – some close and personal, others that have played out large and in public. 

But through it all – the good, the bad and the ugly – it's my hope and belief that all things work together for the best (even if it doesn't always feel that way at the time).

And what time could be much more difficult than now, with a nationwide lockdown?

But where there's a will there's a way, and I'm delighted to confirm that the lights are on 24/7 at ZIMMERMAN. (Yes, it was a bit of a scramble, but I managed to mount the TEN exhibition just hours before lockdown came into effect).

So Palmerston North residents out and about in April and May – whether taking fresh air or on essential business – will be able to view the anniversary exhibition, TEN, at any time day or night through the gallery's front windows.

And whatever the future may hold, I remain positive about the power of art to give people hope and to provide points of connection.

So it's with sincere gratitude that I extend a special thanks to each of you who have supported ZIMMERMAN, and the talented artists the gallery represents, in your own different ways over the last 10 years.

It is because of you that we are still here, shining bright into a new decade.

Stay well, stay strong, and stay connected.

Bronwyn Zimmerman
Owner / Director
TEN – the exhibiting artists
Cam Munroe - Recap, mixed media on canvas, 152 x 90 cm

One of the first contributions to the anniversary exhibition was "Recap" by Cam Munroe. This fascinating painting is an eclectic selection of factoids from the past 10 years.
Who knew 2015 was the year in which the DNA of a woolly mammoth was spliced into an elephant, and in which we developed an Ebola vaccine?

Angela Tier - The Archeologist, The Alchemist, The Believer, coiled stoneware, each 34 cm high

While Munroe's painting reflects on the past 10 years, Angela Tier's stoneware sculptures look forward to what can be achieved in the decade ahead.

Tier's sculptures are inspired by scientist Beth Shapiro's book, "How to clone a Mammoth: The Science of De-extinction".

Three ibis birds, "The Archaeologist, The Alchemist and The Believer", stand together in a pseudo prophetic attempt to bring back our native birds from extinction.

With visages eerily reminiscent of the beak masks worn by doctors during the bubonic plague, each bird brings its own element to the attempted resurrection: like Dr Frankenstein, who collected parts to reignite life into the bones and flesh of his creature.

Will their attempts at de-extinction within a decade be wonderful, or will it be disastrous?

Naga Tsutsumi - Alchemist, Anarchist, charcoal on paper, 98 x 71 cm

Palmerston North artist Naga Tsutsumi reflects on his own art marking in the last 10 years, in his striking charcoal drawings, "Alchemist and Anarchist".

Over this time charcoal has become a key part of his "art life", and the characters portrayed here conceptually represent aspects of his art processes. The alchemist relies on skill and learning to make her way, while the anarchist fights against whatever obstacles stand in his path.

Prakash Patel - Violet Mountain, acrylic on canvas, 101 x 152 cm

Any ZIMMERMAN milestone would be incomplete without a work by Whanganui painter Prakash Patel, the first artist the gallery featured on opening its doors ten years ago.

Is it just my heightened imagination, or does Patel's "Violet Mountain" look like a cluster of vibrant viruses viewed under a microscope?

Ian Chapman - Come in number 9, your time is up, acrylic on canvas, 61 x 91 cm

The gallery's newest exhibiting artist, Ian Chapman, strikes a decidedly playful note with his contribution to the anniversary exhibition, cheerily farewelling the past years with "Come in number 9, your time is up".

In Chapman's wacky world, a collection of gravity-defying coracles breezily sail along mid-air, their colourful passengers enjoying the ride - for as long as it lasts.

Tony Rumball - Vroom, ink & acrylic on paper, 36 x 26 cm / Artworks, oil & ink on canvas, 30 x 30 cm 

Keeping it colourful is Tony Rumball, with his celebratory painting "Vroom" – a reminder of the speed with which the 10 years have gone, and revving the engine for a wild ride ahead.

But the world of art is not all colour and speed – a second Rumball painting, "Artworks", deftly sums up the business of owning an art gallery over the years: jobs, jobs, jobs then BINGO (you finally sell some art!)

Fran Dibble - Accolades, ten works in cast bronze

Fran Dibble is another artist who understands the vagaries of the art industry, and the challenging business of running a gallery. Fran and Paul Dibble have been full time artists for many years, and in that time have seen many galleries come and go. This month Fran acknowledges the gallery's milestone with "Accolades", a collection of ten bronze floral tributes.

"At the end of a performance, when the performer comes out to take a bow, flowers are often pitched onto the stage. This is the audience making tributes, thank you presents for a job done well. These re-enacted small throwaways have been given permanence, cast into bronze. There is a different flower for each year, each made by hand-modelling, meticulously fashioning petals, stems and leaves, noting the diversity of form and structure."

Elspeth Shannon - Small paintings, 10 mixed media works on canvas, each 25.5 x 25.5 cm

Painter Elspeth Shannon also responded to the anniversary exhibition with a collection of ten unique works.

Shannon's petite paintings are evenly spaced across the gallery walls like a protective border, their abstracted rock forms suggestive of stacked pebbles, boulders and columns in alternating hues of brown, gold and grey.

Anniversary exhibition runs throughout April and May 2020