Home

/

April 2022 - HUIA: a group exhibition
Previous Exhibitions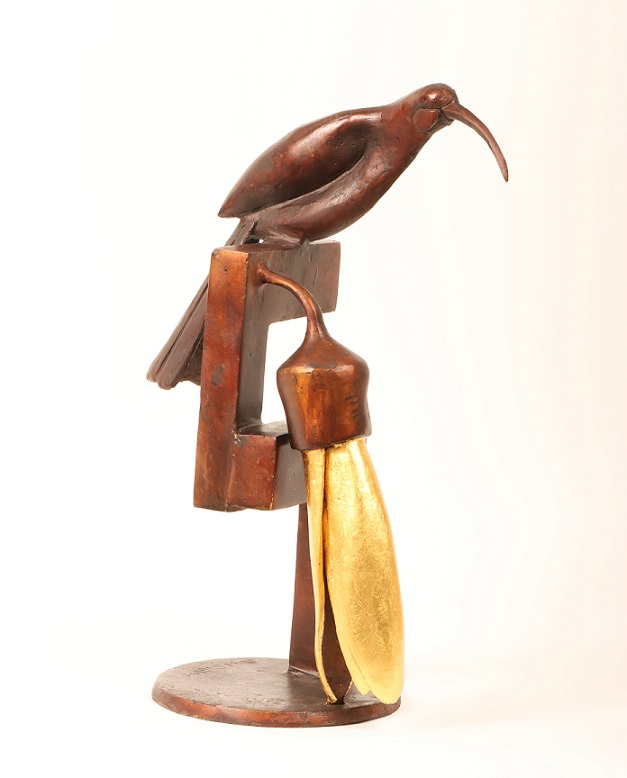 This month ZIMMERMAN is delighted to present HUIA: a group exhibition. 
HUIA is an anniversary of sorts: marking 30 years since Manawatu sculptor Paul Dibble first incorporated huia in his work.
So this exhibition happily tips a hat to Paul Dibble, acknowledging his contribution to public consciousness of the huia.
But Dibble is not the only artist to find inspiration in his study of our beautiful lost bird.
This exhibition brings together a variety of work, in a range of media, created by New Zealand artists who have all responded to the call of HUIA: featuring new work by Paul Dibble, Brett a'Court, Cam Munroe, Ian Chapman, Sean Crawford, Tony Rumball, Kirsty Gardiner and Michele Irving.

Further exhibition commentary is set out beneath the images below.  
HUIA: a group exhibition

The inspiration behind this month's exhibition lies in the work of Manawatu sculptor Paul Dibble.

Dibble first featured the extinct huia in his work in 1992, in a sculpture titled "Tribute to Friends I Never Knew". In this early sculpture, a figure with an outstretched arm holds a small huia as if in conversation with a pet bird. At the time many people didn't even know what a huia was - awareness of the huia seemed to have somehow fallen out of popular knowledge.
Over the next 30 years, huia had a rising importance to Dibble. Their significance was three-fold. First, with the last official sighting of huia in the nearby Tararua ranges, Dibble adopted the bird as a personal icon. Second, there was a growing interest in a New Zealand vernacular, with less emphasis on international art trends. And lastly - a particular concern in recent years - with the strengthening of the conservation movement.


The manner in which Dibble has portrayed huia has changed over these three decades, but huia have endured as a central presence in the sculptor's work.


For this month's exhibition at Zimmerman Art Gallery, Dibble and other artists were invited to respond to the theme "HUIA".


The resulting exhibition is an impressive variety of art work, with new work by Paul Dibble, Brett a'Court, Cam Munroe, Ian Chapman, Sean Crawford, Tony Rumball, Kirsty Gardiner and Michele Irving.
Brett a'Court is exhibiting for the first time at Zimmerman Art Gallery with two new paintings, "Fallen Angel" (oil on canvas) and "The Lost Spirit of the Huia" (oil on prepared paper).  
Cam Munroe, with her signature use of symbols and hieroglyph forms, reflects on the huia we never had opportunity to meet, in a work on shadow cladding wistfully titled "I read about you".
"Wish you were here" is the title of Ian Chapman's surreal oil painting, in which a tightly bound huia is suspended above a well-thumbed postcard of Castlepoint.   
Two new bronze sculptures by Paul Dibble portray not only the artist's beloved huia, but also the glorious gilded kowhai that now regularly feature in Dibble's work.   
Wairarapa sculptor Sean Crawford's work, "Mantle", is a poignant charred structure. The artist has repurposed a fire surround (mantle piece), made of rimu and totara, and with an estimated age of 115 - 120 years: around the time that huia were still alive in our native bush. Crawford reflects on the last sightings of the huia as dying embers, as the huia's light faded into extinction. The "mantle" - as domestic habitat, with lacing cord representing the stars of the Southern Cross - now lost in fire, becomes a fetishized lament to a species gone.  
Installed above "Mantle" is another Crawford work, "The Land of Powder and Lost Stars": a musket fashioned from laser-cut steel huia. 
Tony Rumball's ink and graphite works capture some of the character of huia, portraying the birds in their imagined daily activities - preening, walking, feeding - reminding us of the life they once enjoyed in our land. 
Huia have featured for many years in the works of ceramic artist Kirsty Gardiner. Recently the artist began work on a new series, "The Taxidermist's Wife". Inspired by a Kate Mosse book, "The Taxidermist's Daughter", Gardiner's new works contemplate what a female taxidermist would make, using all her sewing materials, scraps and bits of metal available to her. The collected works include life size "faux huia", ornately embellished huia skins, two wall plaques and a flight of huia moths. 


Last - but certainly not least! - are the clever creations of Wellington textile artist Michele Irving. Reflecting on the extinct huia, the artist was inspired to give life to a new series, EXTINCT. Featured in this month's exhibition are:
- Ainsworth's Salamander - Mississippi United States, extinct 1964
- Huia - New Zealand wattlebird, extinct 1907
- Javan Tiger - Java Indonesia, extinct 1979
- Thylacine - Tasmanian Tiger - Australian marsupial, extinct 1936

Such an extraordinary variety of works to view this month - come take a look!