Home

/

April 2023: Lee-Ann Dixon - "Wallpaper'
Previous Exhibitions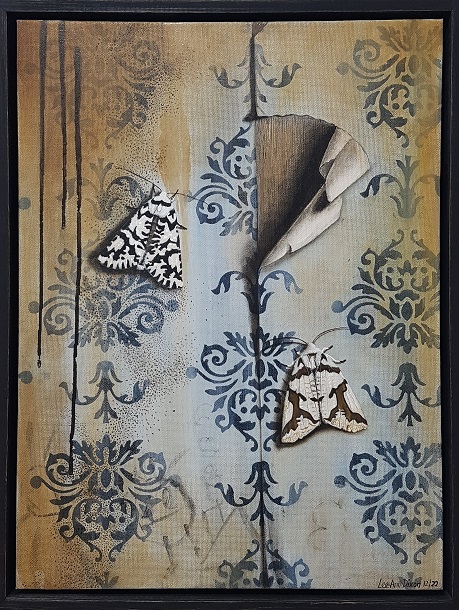 This month's exhibition is "Wallpaper" by Lee-Ann Dixon.

Regular visitors to Zimmerman Art Gallery will be familiar with Lee-Ann's intricately detailed oil paintings on vintage serving ware.

This month's exhibition marks a new direction for Lee-Ann, with a series of works on canvas, in which patterns of vintage wallpaper evoke memories of the past.

"My story is not a new story, growing up in the 70s the feeling of abandonment was not uncommon. These paintings are the start of putting my thoughts onto canvas, as ideas about the past start to unfold."

The wallpaper in the paintings often appears cracked, faded or stained, as if from mistreatment or neglect over the years. In some works the wallpaper is peeling and torn, beginning to disclose what may have been covered over for decades.

Insects and skull bones hover or alight upon these decorative surfaces, perhaps seeking a place of rest or camouflage. But for every effort to hide in plain sight, their presence is revealed when exposed to light.

If you're in Palmerston North this month, be sure to come take a look - gallery hours are 11am to 3pm Thursday to Sunday (closed Good Friday and Easter Sunday).  
List of works (in the order shown above)


Small works (unframed):
- Blue Moon (2022), oil on canvas, 205 x 205 mm 
- Cold and Dark (2022), oil on canvas, 200 x 200 mm
- Blending In (2022), oil on canvas, 205 x 205 mm
- Pretty in Pink (2023), oil on canvas, 205 x 205 mm

Framed works (medium size):
- Solitary I (2023), oil on board, 330 x 330 mm 
- Solitary II (2023), oil on board, 330 x 330 mm
- Once in a Blue Moon (2022), oil on canvas board, 435 x 335 mm 
- Neglected II (2022), oil on canvas board, 435 x 335 mm
- Neglected (2022), oil on canvas board, 435 x 335 mm

Large framed work:
- Centre of Attention (2023), oil on board, 525 x 720 mm