Home

/

Dec 2018 / Jan 2019 - Stairways and Enclaves - sculpture by Anna Korver
Previous Exhibitions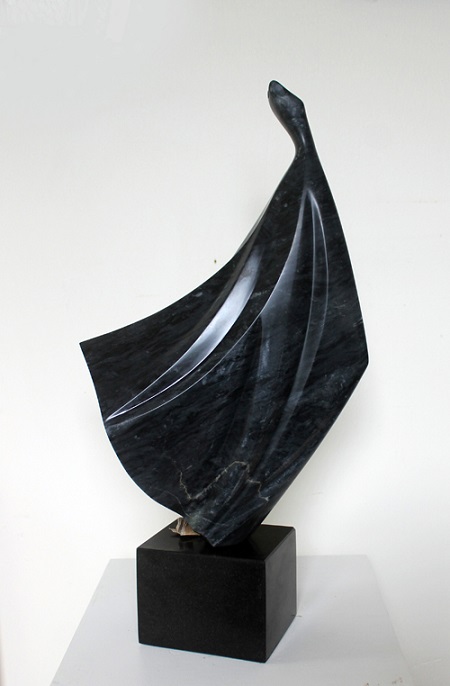 For the summer months December 2018 and January 2019, ZIMMERMAN is exhibiting Stairways and enclaves - sculptural works by Anna Korver.
Stairways and enclaves - Artist's statement

"This exhibition is a collection of works that continue two main series, which have recently become literally and thematically linked: works from my signature figurative and dress form series, and a more recent series based on architectural forms."

Figurative and dress form series

"My figurative works retain a strong feminine narrative, and generally speak about an internal dialogue of balance and strength.

The directly figurative pieces embrace the hard lines of the masculine while also reclaiming the softer feminine attributes which are often seen as weaknesses, re-forging and celebrating them into a different kind of strength.

The dress forms take on various narratives about the feminine experience, some as forms of armour, while others are lighter and more whimsical."

Architectural series

"My architectural works depict a chaotic, deconstructed landscape.

They symbolise the rebuilding of the idea of home, and connection to a specific place or culture, questioning and clarifying the need and importance of this idea to our own identity.

These architectural works touch on the quantum theory of the observer effect giving reference to the way people and places impact, imprint on and define each other."

Evolution of staircases and enclaves

"My figurative works have often incorporated the staircase element. The more recent works incorporate the two in a way where they have evolved into a single form, one unable to exist without the other.

The staircases and architectural forms can be seen emerging from the figure, or leading into tiny rooms and enclaves within the figures, alluding to the idea that the concept of home has become an internal feeling."


Anna Korver – brief artist bio

Anna Korver holds a Bachelor of Fine Arts in sculpture from the University of Canterbury (2003).

Korver is a regular participant in sculpture symposia and sculpture park exhibitions both locally and abroad.

In 2018, Korver was part of international sculpture symposia in New Zealand, Korea, Romania, Albania and Macedonia. In earlier years Korver has participated in sculpture symposia in Qatar, Montenegro, Cyprus, Australia, Denmark, Turkey, Iran and Costa Rica. The artist was awarded first prize for her work at sculpture symposia in Rotorua (2014), Whangarei (2012) and Coromandel (2008).

Public sculpture by Korver has been installed both in New Zealand and abroad, including in Romania, Albania, Egypt, Montenegro, Australia, Turkey, Iran and Costa Rica.

Korver's work has been exhibited on multiple occasions at New Zealand Sculpture Onshore (Devonport), Sculpture on the Peninsula (Banks Peninsula) and Art in a Garden (Canterbury). Korver has twice exhibited as part of Shapeshifter at the Dowse (Lower Hutt), and has twice been a finalist in the prestigious Wallace Art Awards (2016 and 2018).

Korver is a former a co-owner of The Korver Molloy Gallery and Sculpture Park, which operated in Taranaki for four years.