Home

/

Dec 2022 / Jan 2023 - All things small and wonderful - group exhibition
Previous Exhibitions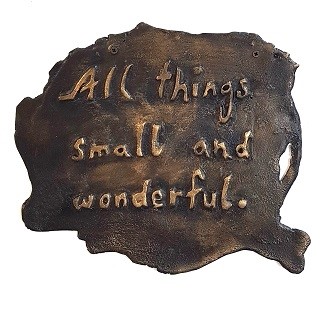 To end 2022 and welcome the new year ahead, ZIMMERMAN's summer exhibition celebrates art works that are "small and wonderful". As works leave this evolving exhibition, new works are progressively being added to take their place - come take a look when you're out and about this summer. The gallery is open until 3pm on Christmas Eve, then re-opening in the New Year on Thursday 5 January 2023. 
All things small and wonderful
Kirsty Gardiner delights with several new ceramic works, ranging from dainty multi-coloured beetles, to a new series of petite potted bouquets.

The paintings of long-time exhibitor Tony Rumball playfully portray modern life and times, while the steel sculptures of Sebastien Jaunas suggests a more medieval aesthetic.

Closer to home, a painting by Brett a'Court delves into our uniquely New Zealand history. Brett's use of woollen blankets as a medium in his paintings are a connection and metaphor between colonisation, Christianity and the Maori prophets.

Exhibiting at ZIMMERMAN for the first time is Palmerston North artist Deano Shirriffs, with a series of paintings on board in fresh and engaging colour palettes.

Two other first time exhibitors at the gallery are Whanganui artist Leigh Anderton-Hall, with a series of wall-hung ceramic clouds, and icon painter David Sarich, whose small paintings on wood bowls convey a sense of things sacred and treasured.

An acrylic painting by local artist Naga Tsutsumi takes inspiration from the opening line of The Catcher in the Rye by JD Salinger.  The novel details two days in the life of 16-year-old Holden Caulfield, as he searches for truth and rails against the "phoniness" of the adult world. 

The ever-imaginative Michele Irving has crafted an endearing new series of "Noisy Dog" brooches (woof!), while the quirky Ian Chapman continues to celebrate the off-beat in his new painting, A deep dive into reality.

Lee-Ann Dixon's meticulously painted works on vintage ware are a continuing reminder of the preciousness and transience of life, while painter Elspeth Shannon appears to have breathed life to an entire new species (part mineral, part botanical) in her ongoing "Stoneflower" series.  

New bronze sculptures by Paul Dibble convey maturity and poise, while Fran Dibble impresses with an elegant grouping of small garden-scape oil paintings on board.

A pixelated painting by Matthew Steedman responds to the kaleidoscopic colours of autumn, while Cam Munroe's latest series, Look at that heaven which night never makes black, invites us to bring our own associations to the works.

Such a variety of works to view - with further works arriving as the exhibition progresses - be sure to stop in for a look!

Exhibition runs until Sunday 29 January 2023