Home

/

Dec 2021 / Jan 2022 - All things small and wonderful - group exhibition
Previous Exhibitions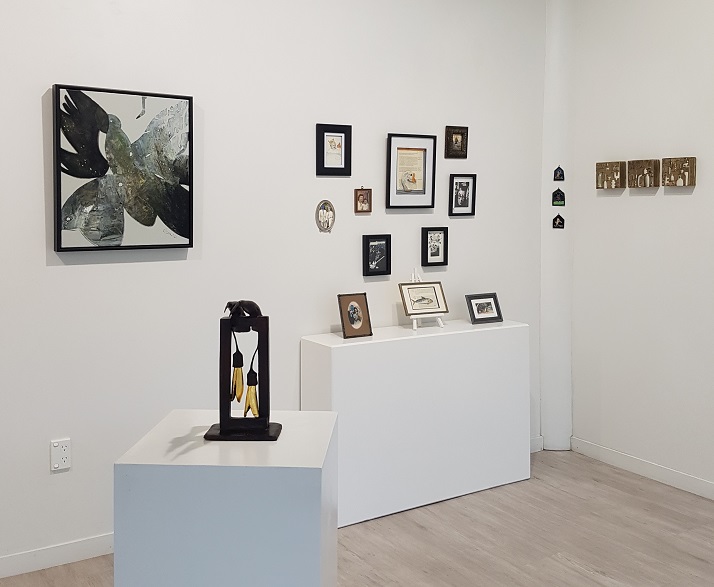 To end 2021 and welcome the new year ahead, ZIMMERMAN's summer exhibition celebrates art works that are small and wonderful.
Eleven artists kick off the show, with further works set to arrive as these pieces find their new forever homes. 
Selected installation images and a brief commentary are set out below - enjoy!
All things small and wonderful
The smallest works on display this summer are Michele Irving's teeny textile wall hangings, while the largest are abstract paintings by Elspeth Shannon.
New to ZIMMERMAN this month are the works of Whanganui's Rachael Garland, beginning with a supernatural series of four paintings titled Strange Continent.
Also exhibiting for the first time at ZIMMERMAN is Palmerston North fibre and assemblage artist, Gunhild Litwin, with a delightful series of embroideries on paper.
Five black stoneware maquettes by Angela Tier anticipate larger works to be created in the New Year, while small sculptures by Fran and Paul Dibble are - as always - a welcome addition to this month's exhibition.
A new painting by Fran, A Golden Summer, emits a warm glow on the gallery walls.
Tony Rumball's petite paintings bring colour and quirk, while sculptor Kate Elder's pastel toned wall sculptures are a welcome breath of fresh air at the end of a hard year.
The earliest works in the exhibition have been supplied by Naga Tsutsumi, with one small pencil study dating back to his student days in 1996.
And the most recently completed works in the exhibition include a fresh new series by Cam Munroe, titled Moons of Jupiter­, precisely painted on chunky wood blocks.
Such a variety of works to enjoy – be sure to come take a look!