Home

/

February 2021 - Fran Dibble - "The Crowded Garden"
Previous Exhibitions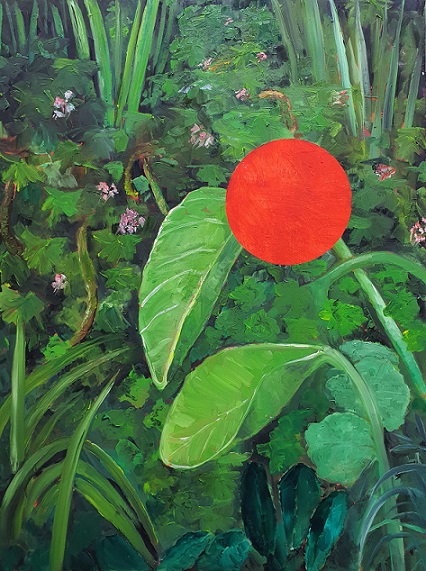 This month's exhibition is The Crowded Garden by Palmerston North artist Fran Dibble. 
The Crowded Garden
"The Crowded Garden" is a title adapted from the famous phrase of Darwin's - "the crowded bank". For that was the place to look for evolutionary mutations; a place teaming with life where resources are under pressure, giving rise to competition. It is the place where things happen.

But without the back story the exhibition title is an apt straightforward description - these are "crowded gardens", a profusion of growth and layering, busy chaotic corners where plants push past and across each other reaching for sunlight.

It creates an expressive tapestry and, as counterpoint, perfect spheres are placed within the compositions, not added afterwards but built up in the construction as if they are punched through into some internal domain.

The exhibition is a mix of two methods: oil works on board of a single scene, and mounted paper studies where abstracted pieces are mixed with the foliage. These garden sections (alongside stripes, scenes of seas and floating orbs), contain some tropical scenes inspired by a Cook Island trip early in the year 2020, just before the pandemic's separation of the world was to begin. 

– Fran Dibble


This month's exhibition runs until 28 February. Gallery hours are 11am to 3pm Thursday to Sunday  
Brief artist bio
Fran Dibble holds a B.Sc. in Biochemistry & Botany, a M.Sc. (Hons) in Biochemistry and a BA in Philosophy. Her interest in these disciplines informs her artistic practice, encompassing both painting and bronze casting.

Fran's paintings - sometimes comprising works brought together as multiple panel assemblages - draw inspiration from the natural environment, as well as shapes observed under a microscope, and scientific theories such as principles of gravity and the diffusion of particles.

In 2007 Fran was awarded a Queen's Service Medal for services to art, and in 2019 was received into Te Aho Tāmaka, an initiative celebrating Manawatū leaders.