Home

/

February 2022 - "Saudade; Forgotten" - glass works by George Agius
Previous Exhibitions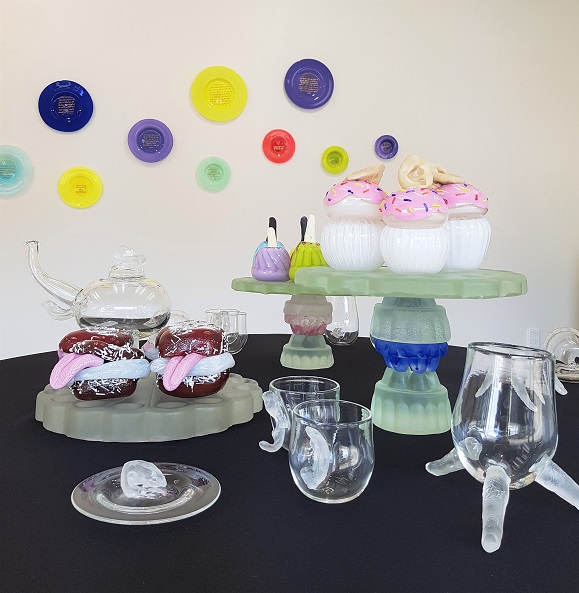 In 2022, the International Year of Glass, we're delighted to kick off ZIMMERMAN's exhibition schedule with the extraordinary glass works of Manawatu artist, George Agius.

The works in this month's exhibition range from a series of wall-hung glass plates with gold lettering, to an afternoon tea setting offering a delicious array of tasty treats (but take a closer look: this scrumptious setting is not as it may at first seem …).

The full artist commentary, and a short artist bio, are set out underneath the images below. 
Saudade; Forgotten - Artist's statement

"This body of work, Saudade; Forgotten, attempts to encapsulate the profound melancholic longing for a love lost and the effort to overcome these emotions.

Communication is at the heart of this work, as I chart the arcs of a relationship through the course of its timeline.

The wall-hung plates, titled All the Glitters is Not Necessarily Gold, feature Facebook messages exchanged during courtship. 

The messages range from the ecstatic beauty of falling in love, through to facing inevitable challenges that cannot be resolved. 

My aim is to memorialise this contemporary and fleeting mode of communication in a tangible and long lasting form, posing the question: what is lasting communication in a digital age of immediacy and constant contact?

The tea setting is titled Full disclosure: When fingers point, ears don't listen, and mouths can't speak.

This and my Finger Licking Good plates are my attempt to make the invisible seen, the intangible tangible, and the impermanent permanent, highlighting how integral honest and open communication is to a successful relationship."
George Agius - Brief artist bio

George Agius has a Bachelor of Fine Arts: Glass (Alberta College of Art and Design in Calgary, Canada, 2010-2011), and a Diploma of Glass Design and Production (Whanganui Glass School, 2008-2010).

In 2013 George completed the JamFactory Associate Training Program in Adelaide (Australia) and subsequently exhibited in the Waterhouse Natural Science Art Prize, Kennedy Art Prize, KIGA Illuminating Glass Award and Wagga Wagga National Emerging Art Glass Prize.

In 2015, at the Australian Glass Conference, George was awarded the peer-selected Vicki Torr Memorial Prize.
Gallery hours 11am to 3pm Thursday to Sunday - exhibition runs until Sunday 27 February 2022