Home

/

January 2020 - Kirsty Gardiner - The Signature of All Things
Previous Exhibitions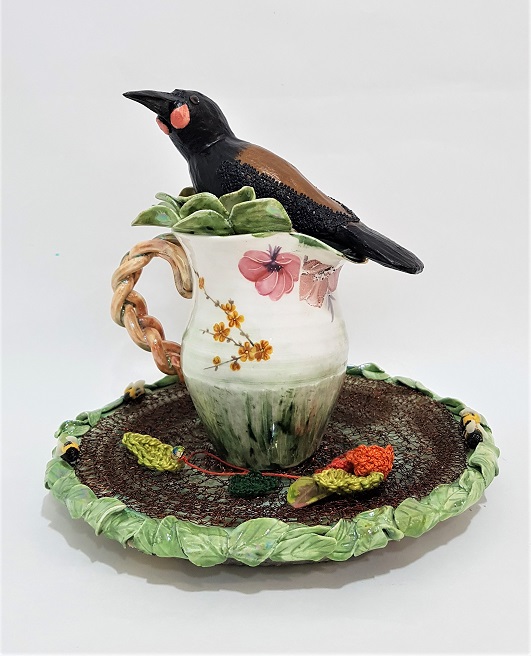 This month ZIMMERMAN is featuring The Signature of All Things, an exhibition of new ceramic works by Kirsty Gardiner.
"The Signature of All Things" is an epic novel by Elizabeth Gilbert.


Reviewer Elizabeth Day describes the novel as bringing to the fore "all those forgotten women of science, whose trailblazing work was swallowed up by more famous men. But it also asks us to consider whether a life lived in the shadows, comprising of a million, small, unnoticed actions, is worth any less than a life of big gestures and public recognition."

When making the art works for this exhibition, Kirsty Gardiner played an audiobook of Gilbert's novel in her studio, listening to the story unfold, as the artist fashioned each small object. In this sense "The Signature of All Things" has been a constant companion to these new pieces, a collection of ceramic works that combine elements of history with artist imaginings. 

"The signature of all things" is also a phrase associated with the writings of 16th century mystic, Jacob Boehme. Boehme discoursed on the law of signatures, a concept attributing hidden meaning to objects in the real world. Boehme believed that the natural world, by God's design, holds the clues to show humans how to lead better, healthier, more enriched lives.

These three threads - an epic novel, a reviewer's quote and a mystical concept – each intertwined in the artist's mind to become a fitting title for the current exhibition.

Exhibition runs until 31 January 2020

Brief artist bio
Kirsty Gardiner has exhibited at public galleries and award shows throughout New Zealand for more than 20 years.In 2010 Gardiner's work won the Premier Award at the Portage Ceramic Awards, New Zealand's most prestigious ceramics prize. Gardiner subsequently received a merit award in 2011 and an honourable mention in 2016.

In 2013 Gardiner took out the Premier Award in the Wairarapa Review, and in 2015 the artist secured the Excellence Award in the New Zealand Society of Potters (NZSP) Elements exhibition. Gardiner went on to receive the 2017 NZSP non-functional award at the national exhibition at the Quartz Museum in Whanganui.

Gardiner has held solo exhibitions at Te Manawa (Palmerton North), Aratoi (Masterton), Expressions (Upper Hutt) and Mahara Gallery (Waikanae). This is the artist's third solo exhibition at ZIMMERMAN.