Home

/

July 2020 - Angela Tier - Soar
Previous Exhibitions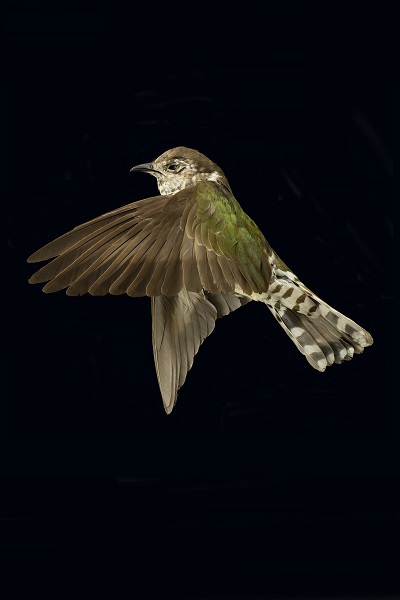 For the month July 2020, ZIMMERMAN is delighted to present Soar by Whanganui artist Angela Tier. 
Angela Tier: Soar 
Angela Tier has brought together a series of ceramic statuettes and larger-than-life photographic portraits, in an exhibition reflective of preservation and beauty.

Standing in a line, on a long plinth, are the assembled ceramic works, a series inspired by New Zealand birdlife. Suggestive of ancient objects, Tier created these sculptures using the age-old "coiling" technique.

Of a more unearthly nature are the works on the gallery walls; four poignant portraits, photographic images that evoke the documentation of bird specimens.

Tier's gathering together of the various bird species in this exhibition is inspired by two places where native, endemic and introduced birds reside together: Bushy Park Sanctuary and the Ruatiti Valley.

Below are the artist's reflections on spending time at each of these special locations.

Bushy Park Sanctuary
"Bushy Park is not far from my home. It was bequeathed to the Royal Forest and Bird Protection Society in 1962 by George Francis ("Frank") Moore, and has become a paradise for birds."

"With 100 hectares of predator-free virgin lowland forest, our native birds have more chance here of successfully raising their young; species such as the Hihi (Stitch-bird), Tieke (Saddleback), and Toutouwai (Robin) are a treat to see, and these species all feature among the ceramic objects in this exhibition.

At Bushy Park I feel as if I've been transported back in time, into a forest that our ancestors might have once wandered in, hearing similar bird songs and seeing the abundance of life among the trees."

Ruatiti Valley
"A little further from home is the Ruatiti Valley, a rugged harsh wilderness surrounded by farmland. In the heart of the valley lies the Old West Town, a place at which I was privileged to work for two years.

In this beautiful eerie valley, daily encounters with bird life vary from Tui, Miromiro (Tomtit), Korimako (Bellbird), to the uncommon Koekoea (long-tailed Cuckoo) and rare Whio (Blue ducks) who keep returning to the same place along the stream.

At twilight the place comes alive with the sounds of Ruru (Morepork), in what seems like a surround-sound conversation, calling out to each other from opposing shadowy hills.

In the dark of the night, you can hear the high-pitched piercing call of the male kiwi, and the low gravelly growl of the female responding to the cry of her companion. Sometimes other kiwi chime in, letting rivals know where their territory is.

The sparkle of the night sky is so magical and unpredictable, much like the life in the land beneath it.

The area in the Ruatiti Valley around the Old West Town is a place of paradox; it has both a haunting history and a magical serenity. There are dangerous hidden tomo (deep chasms in the ground), and around the campfire folk tell tales of buried treasure, and of the ghosts seen wandering there.

It's a setting where time seems to stop; without connection to a digital world, it becomes a place of relaxation, adventure and discovery. You can disconnect from the anxiety of everyday modern life, and follow tracks into the bush to find a new kind of existence growing everywhere you turn. 

There are also remnants of people that once hunted, lived or got up to mischief there.

The spirit of this place is carried by the photographic images in this exhibition, each being common birds from the Ruatiti Valley that were gifted to me; a native Kotare (Sacred Kingfisher) and Pipiwharauroa (Shining Cuckoo), an endemic Kereru (Wood Pigeon), and an introduced species called the Yellowhammer, which was brought here in the mid to late 19th century by the British Acclimatization Society.

The photographic portraits of these birds echo their once soaring wings, immortalizing their delicate beauty while remembering their free spirits, which may still linger in the mysterious valley air."

Soar by Angela Tier runs until 31 July 2020