Home

/

July 2022 - Desperately Normal - new paintings by Ian Chapman
Previous Exhibitions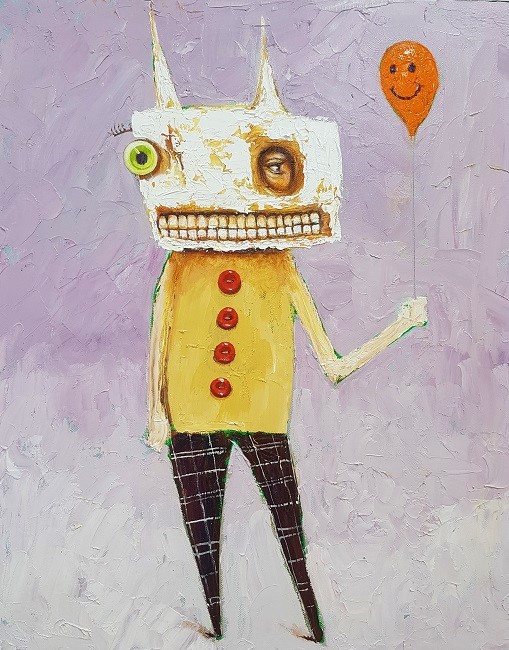 This month ZIMMERMAN is delighted to present Desperately Normal – a new series of paintings by Ian Chapman.
Chapman identifies as being "desperately normal on the outside, and a little irregular on the inside."
In this exhibition, Chapman reflects on the masks he wears as an artist: "Masks of humour; hiding behind jokes and laughter. Also hiding behind trying to be a perfect painter where everything looks as it should."
"The works in this exhibition are a departure from my usual realistic work; looser, brighter and with an edge of darkness. Strangely I feel it is a purer representation of me as an artist." 
Full exhibition images and a brief artist bio are set out below. 
Ian Chapman – brief artist bio
Born in 1967 in Brighton, England, Chapman trained in Visual Art at the Polytechnic in Masterton.
Chapman has been involved with King Street Artworks in Masterton since its inception in 1997, first as a tutor and now as Manager.
Chapman has exhibited across New Zealand, from the Artist Room in Dunedin, to the Pah Homestead in Auckland, where in 1994 he was a finalist in the prestigious Wallace Art Awards.
In 2019, Chapman's solo exhibition A Song for the Uncoordinated was exhibited at Aratoi Museum of Art and History, and later that year the artist went on to win the premier award at the Wairarapa Arts Review.
Chapman's first solo exhibition at ZIMMERMAN was in 2020. Titled Gravity Sucks, the works explored concepts of flight and fragility.
This month's exhibition, "Desperately Normal", is the artist's second solo exhibition at ZIMMERMAN.