Home

/

March 2020 - Ian Chapman - Gravity Sucks
Previous Exhibitions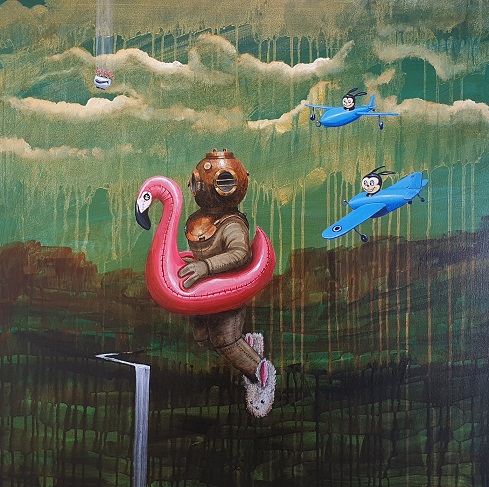 For the month March 2020, ZIMMERMAN is delighted to present Gravity Sucks – an exhibition of paintings by Masterton artist Ian Chapman.
Ian Chapman: Gravity Sucks
A fascination with flight and fragility underpins Chapman's first solo exhibition at ZIMMERMAN.
"In a deep dark corner of my mind is the dream of flight, living in a true three-dimensional world that isn't restricted to six feet above the ground. In a world where gravity doesn't dictate our movements, where evolution can run rampant and life is a lucid dream where anything can be done with mere thought."
In Chapman's paintings an unlikely cast of characters is precariously suspended by bright red party balloons.
"Party balloons should be about fun. They look like they will last forever as we knock them through the air to each other. We do this knowing there is underlying fragility. In an instant they can be gone but we push them to their limits anyway. When they are pushed too far they don't go lightly, they go with a bang, letting us know with their final breath that they were here (and maybe you should be more careful when playing with balloons next time)."
"Tie them to birds and whales in a dark and somewhat alien landscape and you have a statement, not just about the natural world we see on the telly but the almost impossible fragility that we all find ourselves in … that somehow, with seemingly blind luck, we manage to get through, every single day. Until, of course, we don't."
Ian Chapman - about
Born in Brighton, England, Ian Chapman trained in Visual Art at Masterton Polytechnic in the Wairarapa. Chapman has exhibited across New Zealand, from the Artist Room in Dunedin, to Auckland's Pah Homestead, where Chapman was a finalist in the prestigious Wallace Art Awards (1994).
In 2019, Chapman's solo exhibition A Song for the Uncoordinated was exhibited at Aratoi Museum of Art and History. Later that year Chapman received the Premier Award at the Wairarapa Art Review in Masterton.