Home

/

May 2017 - Fran and Paul Dibble
Previous Exhibitions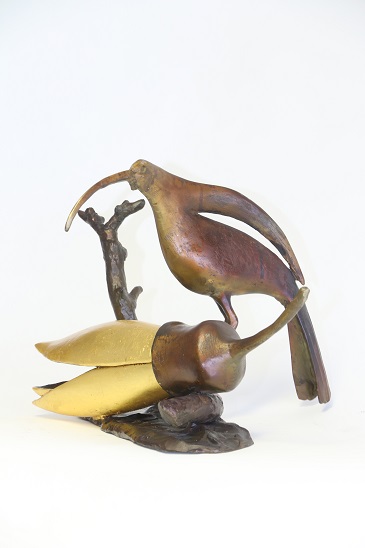 For the month of May 2017, ZIMMERMAN is exhibiting the works of Palmerston North's powerhouse creative couple, Fran and Paul Dibble. With a longstanding foothold in the Manawatu, this month's exhibition is the latest of several exhibitions the husband and wife team have held at ZIMMERMAN since 2011.
Fran Dibble – Strange Fruit
Fran Dibble's paintings occupy the walls in a new series the artist calls "Strange Fruit".
The paintings are an unusual cross of realistic still life works with abstracted elements, each of similar importance, so we are unsure whether the fruit is nestled into an abstract back drop or whether the abstract elements are puncturing a more traditional scene.
This conveys the oddity of the world of illusions we live amongst where solid ordinary things are made up of empty space – particles within, moving with their own odd physics of behaviour, or gravity pulling objects to ground.
They are intentional play-offs of static objects with volume against the light airy movements of the unseen.
Paul Dibble – Once There Were Huia
Paul Dibble's sculptures occupy the three dimensions, with a menagerie of celebratory animals promenading the gallery.
A collection of his rabbits gather in one grouping, turning-the-tails on their human exterminators, either wielding shotguns themselves or just smugly strolling the grounds.
The sculptor's trademark creations of huia (Palmerston North's natural icon, with its last siting in the Tararuas) either perch against golden kowhai or tower outside the gallery on a leafed Corten stand, surveying passers-by.
The central work The Last Huia (1907) is more solemn, immortalising the bird in flames, burning like the Phoenix, in recognition of its demise.
Brief artist biographies
Fran Dibble 
Born in Connecticut (USA) in 1962, Fran immigrated to New Zealand with her family as a teenager.
Fran holds a B.Sc. in Biochemistry and Botany, a M.Sc. (Hons) in Biochemistry and a BA in Philosophy. Her interest in these disciplines informs her artistic practice, encompassing both painting and bronze casting. 
The artist draws inspiration from the natural environment, as well as shapes observed under a microscope, and scientific theories such as principles of gravity and the diffusion of particles.
In 2007, Fran was awarded a Queen's Service Medal for services to art, and in 2012 Fran was made an Honorary Fellow of Universal College of Learning, Palmerston North. 
Paul Dibble 
Paul Dibble is a well-known sculptor, both nationally and abroad, with his significant work for the New Zealand Memorial at Hyde Park Corner in London receiving high acclaim.
Born in 1943, Paul studied at Elam School of Fine Arts in Auckland, and graduated with a BFA Honours in Sculpture.
Paul is involved in all aspects of his studio practice, working with a small team, in a time where many other sculptors contract out the manufacture of their work to other businesses.
Paul has maintained a consistent exhibition schedule in New Zealand, with work also appearing in national and international Art Fairs. He is represented by leading galleries in New Zealand and Australia, and has produced a number of significant commissions – most recently, a large sculptural work unveiled at University of Otago in November 2016.
Paul was awarded a New Zealand Order of Merit in 2004, an Honorary Doctorate in Visual Arts from Massey University in 2007, and an Honorary Fellowship from Universal College of Learning in 2012.