Home

/

May 2202 - RELEASE: a group exhibition
Previous Exhibitions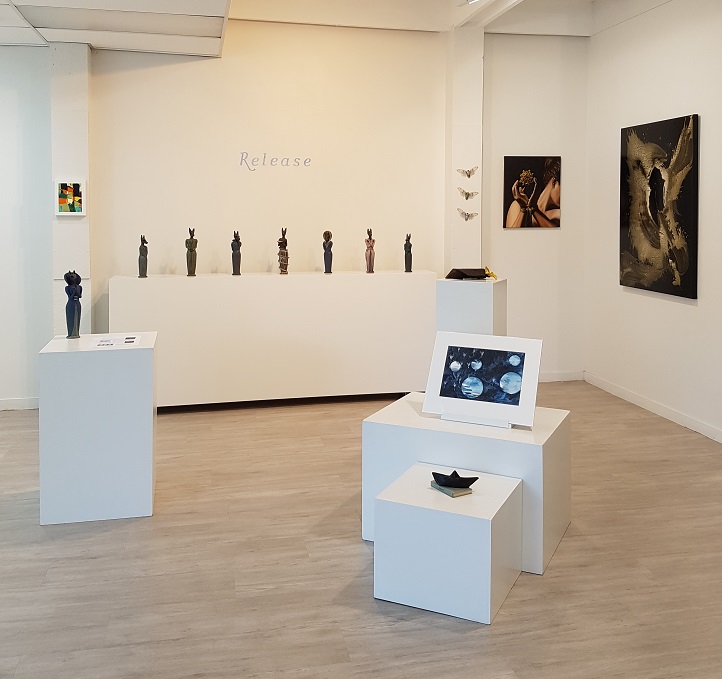 This month ZIMMERMAN is delighted to present RELEASE: a group exhibition, exploring ideas of casting off, letting go or breaking free.
The exhibition includes works by Angela Tier, Matthew Steedman, Elspeth Shannon, Prakash Patel, Kirsty Gardiner, Andrew Moon, Fran Dibble, Jeremy Gardiner and Tony Rumball.
Further exhibition commentary is set out beneath the images below.  
RELEASE: a group exhibition
This month's exhibition celebrates release – works that explore ideas of casting off, letting go or breaking free.
The theme is inspired by Angela Tier's new sculptural series, the Liberators. Tier's individually fashioned black dog statuettes draw on concepts relating to both Guatemalan worry dolls and Egyptian Shabti (mummy-like figurines).
Each black dog, with a small opening in its back, provides an opportunity to cast off your worries and woes. If you write down on paper the things that are troubling you, and place the paper into the back of the black dog, then this physical transfer of these negative thoughts out and away from yourself will help liberate you from them.
The ability to find ways to cast off our anxieties is of particular relevance in these challenging times.
For some, a favourite activity is the path to setting aside the day's troubles and cares; no doubt the fisherman in Tony Rumball's Surfcasting is enjoying the opportunity to breathe in the fresh sea air while indulging in his chosen hobby.
Matthew Steedman's Woman Vaping has a different way of dissolving tension, while the central figure in Elspeth Shannon's Reading Rimbaud favours a more luxurious relaxation method: soaking in a warm bath with a glass of bubbly and favourite book.
An early oil painting by Andrew Moon, Release, shares its title with this month's exhibition, while Prakash Patel's lively Blackbird is a more abstract response to the theme.
Three Fran Dibble works all play on ideas of release; from gently floating seeds in the small painting Soft Flow, to origami-inspired sculptures cast in bronze. One Dibble sculpture depicts a paper boat, as if left standing on a found book about ships, "perhaps from the bedroom of a boy day-dreaming of adulthood and travel, the boat later to be launched into a stream."
Freshly hatched from the studio of Jeremy Gardiner is a flight of ceramic cicadas, with wings widespread, ready to take to the skies.
Rounding out the exhibition is a fascinating new installation by Masterton artist Kirsty Gardiner.
Seven embellished huia reward further inspection, with a curious miscellany of objects and imagery cradled inside. From these imagined inner-workings springs forth new life, with the emergence of leaves, blossoms and other ornamentations, including the artist's signature ceramic moths.
RELEASE runs until Sunday 29 May 2022; gallery hours are 11am to 3pm Thursday to Sunday