Home

/

September 2023 - Cam Munroe & Claudia Aalderink - In Another Form
Previous Exhibitions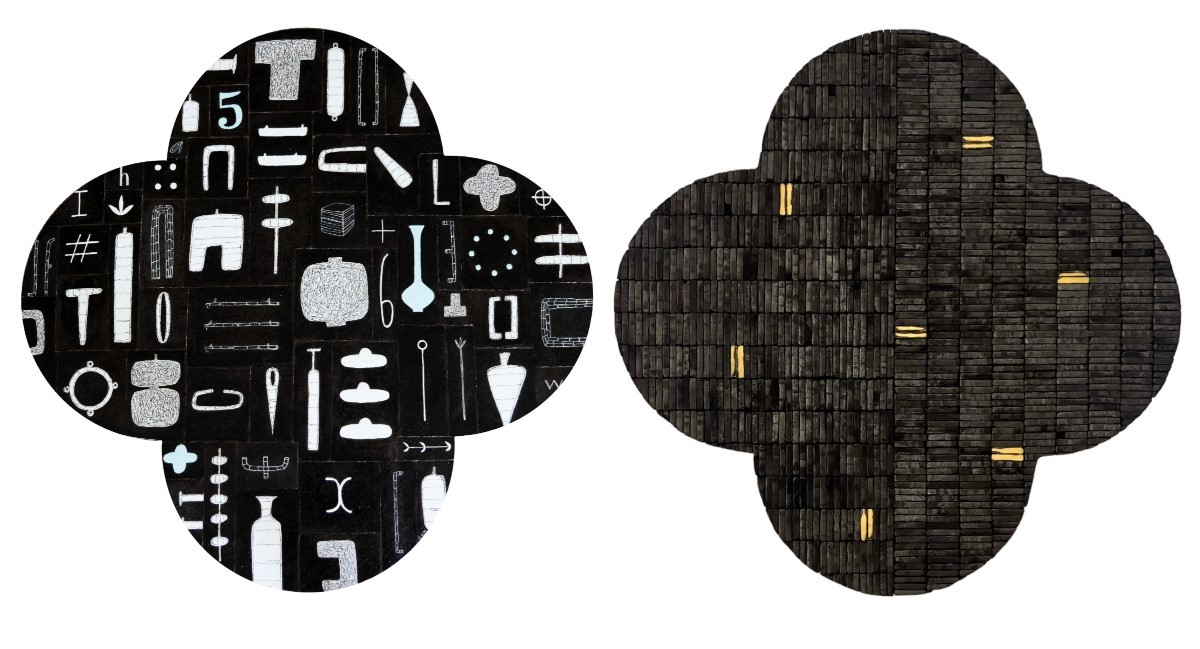 For September 2023 ZIMMERMAN is delighted to present In Another Form: a joint exhibition by Cam Munroe and Claudia Aalderink.

Cam has embraced the quatrefoil form, with seven large mixed media works on board, all featuring the distinctive four lobe shape.

Fellow artist Claudia Aalderink, exhibiting for the first time at ZIMMERMAN, explores the textural qualities of charred recycled beehives, creating a new identity from the weathered wood boxes.

Commentaries by each artist are set out beneath the following exhibition images: 


Cam Munroe
Cam Munroe's quatrefoil shaped paintings are a new approach for the artist in this month's joint exhibition with Claudia Aalderink.

The quatrefoil has a long history, across different cultures and civilizations.

In Mesoamerica it represented otherworldly passageways.

In China the quatrefoil denoted spiritual protection and rebirth.

The symbols and motifs in Cam's paintings draw inspiration from various ancient writing systems and culture, including Egyptian hieroglyphics, Sumerian cuneiform, and modern symbols.

"Through the use of subtle colours, line work and intricate motifs, I seek to pay homage to the ancient symbology, writing systems and the history the markings have had in culture and in turn the inspiration this history has had in my art practice."

"By bringing together these different elements, I wish to evoke universal themes and ideas that have transcended time and geography."

"I aim to convey a sense of wonder at the enduring power of ancient markings and their ability to communicate complex ideas and emotions across generations and landscapes."


Claudia Aalderink  
This month is the second time Claudia Aalderink has collaborated with Cam Munroe on a joint exhibition.

Whereas Cam works with a symbolic structure and approach that maps a surface, Claudia meticulously fragments old beehives in a non-symbolic approach.

Within a reduced visual vocabulary of circles, squares, rectangles, and lines, Claudia explores the subtlety of colour, scale, and composition.

The textural qualities of charred recycled beehives create a new identity from the weathered wood boxes.

Through repetition the works evoke thought and emotive content, inviting viewers to construct their own meaning from the compositions.

Claudia has been working with recycled beehives for over 12 years, constantly reinventing the possibilities of the medium.

"Each piece has their own story and I love the honesty of the material."

"I don't hide any of the 'scars' created over time. They merely add to the final outcome of a piece". 

The joint exhibition of Cam Munroe and Claudia Aalderink runs until Sunday 1 October 2023 - gallery hours are 11am to 3pm Thursday to Sunday.