Artists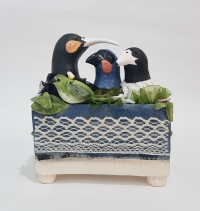 Born in 1963, Wairarapa artist Kirsty Gardiner is a full time ceramic and textile artist.  

Kirsty's ceramic sculptures are influenced by her childhood, natural history, and the collections with which she came into contact while working as a gallery technician at Aratoi Museum of Art and History in Masterton.

A regular exhibitor since 1997, Kirsty's show Portmanteau: A Cabinet of Curiosities, was shown in 2012 at Aratoi, and in 2013 at Palmerston North's Te Manawa Museum of Art, Science and History. In 2016, an installation of Kirsty's porcelain huia skins was exhibited as part of Shapeshifter, a biennial sculpture exhibition curated by The Dowse.

Kirsty won the Premier Award at The Portage Ceramic Awards in 2010, a merit award in 2011, and in 2013 and 2014 was a finalist in both The Portage and James Wallace Art Awards.