Artists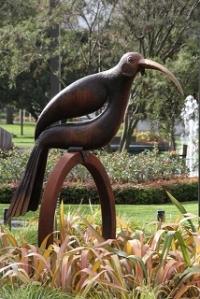 Paul Dibble is a well known sculptor, both nationally and further abroad.
Born in 1943, Paul studied at Elam School of Fine Arts in Auckland, graduating with a BFA (Hons) in Sculpture.

In the 1970s Paul taught art in various secondary schools, before taking up a teaching position at Massey University in Palmerston North. By the year 2000, Paul left teaching to begin working fulltime in his own studio.

Paul is involved in all aspects of his studio practice, working with a small team, in a time where many other sculptors contract out the manufacture of their work to other businesses.

Paul has maintained a consistent exhibition schedule in New Zealand, with work also appearing in several overseas Art Fairs and exhibitions. He is now represented by leading galleries in New Zealand and Australia, and has produced a number of significant commissions. Paul has received high acclaim for his significant work for the New Zealand Memorial in London's Hyde Park Corner.

Paul was awarded a New Zealand Order of Merit in 2004, an Honorary Doctorate in Visual Arts from Massey University in 2007, and was made an Honorary Fellow of the Universal College of Learning (Palmerston North) in 2012.
In 2019, Paul was received into Te Aho Tāmaka leaders programme, an initiative that celebrates accomplished leaders making a difference in New Zealand and globally, who are proud of their connections to Manawatū. 

Paul lives and work in Palmerston North with his wife, artist Fran Dibble.